HOLDER OVERNIGHT
with
PETER ANTHONY HOLDER

JOKE DU JOUR


April 2001

Monday, April 2, 2001 -- The Skydiver
A man went skydiving for the first time. After listening to the instructor for what seemed like days, he was ready to go. Excited, he jumped out of the airplane. About five seconds later, he pulled the ripcord. Nothing happened. He tried again. Still nothing. He started to panic, but remembered his back-up chute. He pulled that cord. Nothing happened. He frantically began yanking both cords to no avail.
Suddenly he looked down, and he couldn't believe his eyes. Another man was in the air with him, but this guy was going up! Just as the other guy passed by, the skydiver yelled, "HEY, DO YOU KNOW ANYTHING ABOUT SKYDIVING?"
The other guy yelled back, "NO! DO YOU KNOW ANYTHING ABOUT GAS STOVES?"

Tuesday, April 3, 2001 -- Death Bed
Jake was on his deathbed. His wife Susan, was maintaining a vigil by his side. She held his fragile hand, tears ran down her face. Her praying roused him from his slumber. He looked up and his pale lips began to move slightly.
"My darling Susan," he whispered.
"Hush, my love," she said. "Rest. Shhh. Don't talk."
He was insistent. "Susan," he said in his tired voice. "I have something I must confess to you."
"There's nothing to confess," replied the weeping Susan. "Everything's all right, go to sleep."
"No, no. I must die in peace, Susan. I slept with your sister, your best friend and your mother."
"I know," she replied. "That's why I poisoned you."
(Thanks to Andrew)

Wednesday, April 4, 2001 -- Give Us This Day Our Daily Chicken
The CEO of Kentucky Fried Chicken manages to arrange a meeting with the Pope at the Vatican. After receiving the papal blessing, he whispers, "Your eminence, we have an offer for you. KFC is prepared to donate $100 million dollars to the church if you change the Lord's Prayer from 'give us this day our daily bread' to 'give us this day our daily chicken.'
The Pope responds, "That is impossible. The Prayer is the word of the Lord - it must not be changed."
"Well," says the KFC guy, "we anticipated your reluctance. For this reason, we will increase our offer to $300 million dollars. All we require is that you change the Lord's Prayer from 'give us this day our daily bread' to 'give us this day our daily chicken.' Again, the Pope replies, "That, my son, is impossible. For the prayer is the word of the Lord and it must not be changed."
Finally, the KFC guy says, "Your Holiness, we at Kentucky Fried Chicken respect your adherence to your faith, but we do have one final offer. We will donate $500 million dollars - that's half a billion dollars - to the great Catholic Church if you would only change the Lord's Prayer from 'give us this day our daily bread' to 'give us this day our daily chicken.' Please consider it." And he leaves.
The next day the Pope convenes the College of Cardinals. "There is some good news," he announces, "and some bad news."
"The good news is that the Church has come into $500 million dollars."
"And the bad news, your eminence?" asks a Cardinal.
"We're losing the Wonder Bread account."

Thursday, April 5, 2001 -- Fights
Two women were at a bar.
One said, "You know, eighty percent of all men think the best way to end a fight is to make love."
"Well," said the other, "that will certainly revolutionize the game of hockey!"

Monday, April 9, 2001 -- Stuffed Toys
A guy met a girl at a nightclub and she invited him back to her place for the night. She still lived with her parents, but they were out of town, so this was the perfect opportunity.
They got back to her house and they went into her bedroom. When the guy walked in the door, he noticed all sorts of fluffy toys. There's hundreds of them; fluffy toys on top of the wardrobe, fluffy toys on the bookshelf and window sill - there's more on the floor, and of course fluffy toys all over the bed.
Later, after they've had sex, the guy turned to her and asked, "So, how was I?"
She replied, "Well, you can take anything from the bottom shelf."

Tuesday, April 10, 2001 -- The Sunbather
A rather well-proportioned woman named Jane, wanted to spend almost all of her vacation sunbathing on the roof of her hotel. She wore a bathing suit the first day but, on the second, she decided that no one could see her way up there, and she slipped out of it for an overall tan.
She'd hardly begun when she heard someone running up the stairs; she was lying on her stomach, so she just pulled a towel over her rear.
"Excuse me, miss," said the flustered little assistant manager of the hotel, out of breath from running up the stairs. "The Hilton doesn't mind you sunbathing on the roof but we would very much appreciate you wearing a bathing suit as you did yesterday."
"What difference does it make?" Jane asked rather calmly. "No one can see me up here, and besides, I'm covered with a towel."
"Not exactly," said the embarrassed little man. "You're lying on the dining room skylight."

Wednesday, April 11, 2001 -- Heaven and Hell for Writers
A writer died and was given the option of going to heaven or hell. She decided to check out each place first. As the writer descended into the fiery pits, she saw row upon row of writers chained to their desks in a steaming sweatshop. As they worked, they were repeatedly whipped with thorny lashes.
"Oh my," said the writer. "Let me see heaven now."
A few moments later, as she ascended into heaven, she saw rows of writers, chained to their desks in a steaming sweatshop. As they worked, they, too, were whipped with thorny lashes.
"Wait a minute!," said the writer, "This is just as bad as hell."
"Oh no, it's not," replied an unseen voice. "Here, your work gets published."

Thursday, April 12, 2001 -- At The Bar
There's a guy sitting at a bar, just looking at his drink. He stays like that for half an hour. Then, a big trouble-making truck driver steps next to him, takes the drink from the guy, and just drinks it all down.
The poor man starts crying. The truck driver says, "Come on man, I was just joking. Here, I'll buy you another drink. I just can't stand seeing a man crying."
"No, it's not that. This day is the worst of my life. First, I fall asleep, and I'm late to my office. My boss, in an outrage, fires me. When I leave the building to get in my car, I found out it was stolen. The police say they can do nothing. I get a cab to return home and when I leave it, I remember I left my wallet and credit cards there. The cab driver just drives away. I go home and when I get there, I find my wife in bed with the gardener. I leave home and come to this bar. And when I was thinking about putting an end to my life, you show up and drink my poison ..."
(Thanks to Lise)

Monday, April 16, 2001 -- Pretty Customer
A very attractive woman goes up to the bar in a quiet rural pub. She gestures alluringly to the bartender who comes over immediately. When he arrives, she seductively signals that he should bring his face close to hers. When he does so, she begins to gently caress his beard, which is full and bushy.
"Are you the manager?" she asks, softly stroking his face with both hands.
"Actually, no" he replies.
"Can you get him for me? I need to speak to him..." she purrs, running her hands up beyond his beard and into his hair.
"I'm afraid I can't," breathes the bartender, clearly aroused. "Is there anything I can do?"
"Yes there is. I need you to give him a message," she continues alluringly, popping a couple of fingers into his mouth and allowing him to suck them gently.
"Tell him there is no toilet paper in the ladies room."

Tuesday, April 17, 2001 -- Fascinate
A teacher asked her students to use the word "fascinate" in a sentence.
Mary said, "My family went to the New York City Zoo, and we saw all the animals. It was fascinating."
The teacher said, "Mary, that was good, but I wanted the word 'fascinate.'"
Sally raised her hand. She said, "My family went to the Philadelphia Zoo and saw the animals. I was fascinated."
The teacher said, "Good Sally, but I wanted the word 'fascinate.'"
Little Billy raised his hand. The teacher hesitated because Billy was noted for his bad language. She finally decided there was no way he could damage the word "fascinate" so she called on him.
Billy said, "My sister has a sweater with 10 buttons, but her boobs are so big she can only fasten 8."

Wednesday, April 18, 2001 -- The Duck - Three Kick Rule...
A big-city, Boston lawyer went duck hunting in rural Maine. He shot and dropped a bird, but it fell into a farmer's field on the other side of a fence. As the lawyer climbed over the fence, an elderly farmer drove up on his tractor and asked him what he was doing.
The litigator responded, "I shot a duck and it fell in this field, and now I'm going into retrieve it."
The old farmer replied. "This is my property, and you are not coming over here." The indignant lawyer said, "I am one of the best trial attorneys in Massachusetts and, if you don't let me get that duck, I'll sue you and take everything you own."
The old farmer smiled and said, "Apparently, you don't know how we do things in Maine. We settle small disagreements like this with the Washington County Three-Kick Rule."
The lawyer asked, "What is the Washington County Three-Kick Rule?"
The Farmer replied. "Well, first I kick you three times and then you kick me three times, and so on, back and forth, until someone gives up."
The attorney quickly thought about the proposed contest and decided that he could easily take the old codger. He agreed to abide by the local custom.
The old farmer slowly climbed down from the tractor and walked up to the city feller. His first kick planted the toe of his heavy work boot into the lawyer's groin and dropped him to his knees. His second kick nearly wiped the man's nose off his face. The barrister was flat on his belly when the farmer's third kick to a kidney nearly caused him to give up.
The lawyer summoned every bit of his will and managed to get to his feet and said, "Okay, you old coot now it's my turn."
The old farmer smiled! and said, "Naw, I give up. You can have the duck."

Thursday, April 19, 2001 -- One Tough Hole
A golfer who was well into his golden years had a lifelong ambition to play one hole at Pebble Beach, California, the way the pros do it. The pros drive the ball out over the water onto the green that is on a spit of land that is just out off the coast.
It was something he had tried hundreds of times without success. His ball always fell short, into the water. Because of this he never used a new ball on this particular hole. He always picked out one that had a cut or a nick.
One year he went out to Pebble Beach to try again. When he came to the fateful hole, he teed up an old cut ball and said a silent prayer. Before he hit it, however, a powerful voice from above said: WAIT ... REPLACE THAT OLD BALL WITH A BRAND-NEW BALL. He complied, with some slight misgiving, despite the fact that the Lord seemed to be implying that He was going to let him finally achieve his lifelong ambition.
As he stepped up to the tee once more, the voice came down again: WAIT ... STEP BACK ... TAKE A PRACTICE SWING. So he stepped back and took a practice swing. The voice boomed out again: TAKE ANOTHER PRACTICE SWING. He did.
Silence followed. Then the voice spoke out again: PUT THE OLD BALL BACK.

Monday, April 23, 2001 -- Joining The Church
Three couples went in to see the minister to see how to become members of his church. The minister said that they would have to go without sex for two weeks and then come back and tell him how it went. The first couple was retired, the second couple was middle aged and the final couple was newlywed.
Two weeks went by, and the couples returned to the minister.
The retired couple said it was no problem at all.
The middle-aged couple said it was tough for the first week, but after that, it was no problem.
The newlyweds said it was fine until she dropped the can of paint.
''Can of PAINT!'' exclaimed the minister.
''Yeah,'' said the newlywed man. ''She dropped the can and when she bent over to pick it up I had to have her right there and then. Lust took over.''
The minister just shook his head and said that they were not welcome in the church.
''That's okay,'' said the man. ''We're not welcome back in Home Depot either.''
(Thanks to Umed)

Tuesday, April 24, 2001 -- Fixing the Gate
St. Peter was checking the gate between Heaven and Hell and found a broken hinge. He walked over to the "Pit" and called to the Devil...
The Devil says, "Yeah, whaddya want..?",
St. Peter replied "The hinge is broken and it's your turn to fix it."
The Devil retorted, "Gee, I am a bit busy and don't have anyone available for this.."
St. Peter got angry, "Look, we have an agreement, and it's your turn to fix the gate..!"
The Devil responded, "Sorry Pete, it's our peak season and there just isn't anyone available..."
St. Peter turned red and exclaimed..."Ok, if that's the way you want it, we'll sue..!"
A big grin broke out on the Devil's face, "Oh yeah, and just where are YOU going to find a lawyer...?!"

Wednesday, April 25, 2001 -- Birth Control at 72?
An elderly woman went into the doctor`s office. When the doctor asked why she was there, she replied, "I`d like to have some birth-control pills."
Taken back, the doctor thought for a minute and then said, "Excuse me, Mrs. Smith, but you`re 72 years old. What possible use could you have for birth control pills?"
The woman responded, "They help me sleep better."
The doctor thought some more and continued, "How in the world do birth control pills help you to sleep?"
The woman said, "Simple, I put them in my granddaughter`s orange juice every morning and I sleep better at night."

Thursday, April 26, 2001 -- Fast Route to Nowhere
Two guys left the bar after a long night of drinking, jumped in the car and started it up. After a couple of minutes, an old man appeared in the passenger window and tapped lightly.
The passenger screamed, "Look at the window. There's an old ghost's face there!" The driver sped up, but the old man's face stayed in the window. The passenger rolled his window down part way and, scared out of his wits, said, "What do you want?"
The old man softly replied, "You got any tobacco?"
The passenger handed the old man a cigarette and yelled, "Step on it," to the driver, rolling up the window in terror.
A few minutes later they calmed down and started laughing again. The driver said, "I don't know what happened, but don't worry; the speedometer says we're doing 80 now." All of a sudden there was a light tapping on the window and the old man reappeared.
"There he is again," the passenger yelled. He rolled down the window and shakily said, "Yes?"
"Do you have a light?" the old man quietly asked.
The passenger threw a lighter out the window saying, "Step on it!" They were driving about 100 miles an hour, trying to forget what they had just seen and heard, when all of a sudden there came some more tapping.
"Oh my God! He's back!" The passenger rolled down the window and screamed in stark terror, "WHAT NOW?"
The old man gently replied, "You want some help getting out of the mud?"

Monday, April 30, 2001 -- The Engaged Pilot
An airplane pilot got engaged to two very pretty women at the same time in two different cities. One was named Edith; the other named Kate.
Well as luck would have it, they met, discovered they had the same fiancée. You can imagine just how angry they were. Well they decided to confront him. They tracked him down and when they did they said:
"Get out of our lives you rascal. We'll teach you that you can't have your Kate and Edith, too."

Picture Of The Month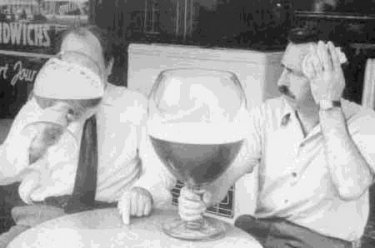 "Gee, Do You Think It's Time For An AA Meeting?"





I welcome your jokes
If you have one to send
click below and email it