HOLDER OVERNIGHT
with
PETER ANTHONY HOLDER

JOKE DU JOUR


September, 2001

Monday, September 3, 2001 -- Summer At The Beach
A couple lived near the ocean and used to walk the beach a lot. One summer they noticed a girl who was at the beach pretty much every day. She wasn't unusual, nor was the travel bag she carried, except for one thing; she would approach people who were sitting on the beach, glance around furtively, then speak to them.
Generally the people would respond negatively and she would wander off, but occasionally someone would nod and there would be a quick exchange of money for something she carried in her bag.
The couple assumed she was selling drugs and debated calling the cops, but since they didn't know for sure they just continued to watch her.
After a couple of weeks the wife said, "Honey, have you ever noticed that She only goes up to people with boom boxes and other electronic devices?"
He hadn't and said so. Then she said, "Tomorrow I want you to get a towel and our big radio and go lie out on the beach. Then we can find out what she's really doing."
Well, the plan went off without a hitch and the wife was almost hopping up and down with anticipation when she saw the girl talk to her husband and then leave. The man walked up the beach and met his wife at the road.
"Well? Is she selling drugs?" she asked, excitement pouring out with her voice.
"No, she's not" he said, enjoying this probably more than he should have.
"Well? What is it, then? What does she do?" his wife fairly shrieked.
The man grinned and said, "She's a battery salesman."
"A battery salesman?" cried the wife.
"Yes" he replied, "She sells 'C' cells by the sea shore."
(Thanks to George)

Tuesday, September 4, 2001 -- What's That, You Say?
The eight-year old boy had never spoken a word -- ever. One afternoon, as he sat eating his lunch he turned to his mother and said, "Soup's cold."
His astonished mother exclaimed, "Son, I've waited so long to hear you speak. But all these years you never said a thing. Why haven't you spoken before?"
The boy looked at her and replied, "Up until now, everything's been okay."

Wednesday, September 5, 2001 -- The Diplomat
The suave Central American diplomat was talking to the prim and proper Washington hostess.
"In my country," he said, "the most popular of all activities is making love."
Shocked, the wide eyed hostess said, "Oh! Isn't that revolting?"
"No," the diplomat replied, "that's our second favorite activity."

Thursday, September 6, 2001 -- Amazing Birth
A baby was born so advanced in development he could talk. He looked around the delivery room and saw the doctor.
"Are you my doctor?" he asked.
"Why, yes, I am," said the doctor.
The baby said, "Thank you for taking such good care of me during the birth."
He looked at his mother and asked, "Are you my mother?"
"Yes, dear, I am," said the mother beaming.
"Thank you for taking such good care of me before I was born," he said.
He then looked at his father and asked, "Are you my father?"
"Yes, I am," his father proudly answered.
The baby motioned him closer, then poked him on the forehead with his index finger...... "Hurts, doesn't it!"
(Thanks to Keith)

Friday, September 7, 2001 -- Dorm Fine
On the first day of college, the Dean addressed the students:
"The female dormitory is out-of-bounds for all male students, and the male dormitory to the female students. Anybody caught breaking this rule will be fined $20 the first time. The second time you will be fined $60. A third time will cost you a fine of $180. Are there any questions?"
A male student inquired, "How much for a season pass?"

Monday, September 10, 2001 -- Two Old Men
Two old men were sitting on a park bench outside the local town hall where a flower show was in progress.
One leaned over the other and said, "Cripes! life is boring, we never have any fun these days. For two bucks, I'd take my clothes off and streak through the flower show!"
"You're on!" said the other old fellow, holding up two dollars.
As fast as he could, the first old man fumbled his way out of his clothes and completely naked, streaked through the front door of the town hall.
Waiting outside, his friend heard a huge commotion inside the hall, followed by loud applause. The naked old man burst out through the door surrounded by a cheering crowd.
"How did it go?" asked his friend.
"Great!" he said, "I WON FIRST PRIZE AS A DRIED ARRANGEMENT!!!"

Monday, September 17, 2001 -- The Young Marine
One day a young Marine and his commanding officer were aboard a train heading through the mountains of Switzerland. They sat directly across the aisle from a young woman and her grandmother.
Before long, the young Marine and the young lady were eyeing each other with mutual attraction. Suddenly passing through a mountain tunnel, it was pitch black in the train for a few minutes. Nothing could be seen in the car of the train, and the only sounds were the smack of a kiss, followed by a slap.
When the train emerged from the tunnel, the four people sat without saying a word. The grandmother was thinking to herself: "It was very brash for that young soldier to kiss my granddaughter, and I'm glad she slapped him."
The commanding officer was thinking: "I didn't know this young Marine was brave enough to kiss that girl, but I sure wish she hadn't missed him and slapped me instead!"
The young woman was thinking: "I'm glad the handsome Marine kissed me, but I wish my grandmother wouldn't have slapped him!"
The young Marine sat back with a smile on his face, thinking: "Life is good. How often does a fellow have the chance to kiss a beautiful girl and slap his commanding officer, all at the same time?"

Tuesday, September 18, 2001 -- Bad Arrest
A police officer in a small town stopped a motorist who was speeding down Main Street.
"But officer." the man began, "I can explain".
"Just be quiet," snapped the officer. "I'm going to let you cool your heels in jail until the chief gets back..."
"But officer, I just wanted to say...."
"And I said to keep quiet! You're going to jail!"
A few hours later the officer looked in on his prisoner and said, "Lucky for you that the chief is at his daughter's wedding. He'll be in a good mood when he gets back."
"Don't count on it," answered the fellow in the cell. "I'm the groom."

Wednesday, September 19, 2001 -- The Accident
A driver had just totalled her car in a horrific accident. Miraculously, she managed to pry herself from the wreckage without a scratch and was applying fresh lipstick when the state trooper arrived.
'My God!" the trooper gasped. "Your car looks like an accordion that was stomped on by an elephant. Are you OK ma'am?"
"Yes, officer, I'm just fine" the lady chirped.
"Well, how in the world did this happen?" the officer asked as he surveyed the wrecked car.
"Officer, it was the strangest thing!" the lady began. "I was driving along this road when from out of nowhere this TREE pops up in front of me. So I swerved to the right, and there was another tree! I swerved to the left and there was ANOTHER tree! I swerved to the right and there was another tree! I swerved to the left and there was ...."
Oh, ma'am", the officer said, cutting her off, "There isn't a tree on this road for 30 miles. That was your air freshener swinging back and forth."

Thursday, September 20, 2001 -- Sharing
A young man saw an elderly couple sitting down to lunch at McDonald`s. He noticed that they had ordered one meal, and an extra drink cup. As he watched, the older gentleman carefully divided the hamburger in half, then counted out the fries, one for him, one for her, until each had half of them. Then the old man poured half of the soft drink into the extra cup and set that in front of his wife. The old man then began to eat, and his wife sat watching, with her hands folded in her lap.
The young man decided to ask if they would allow him to purchase another meal for them so that they didn't have to split theirs. The old gentleman said, "Oh, no. We've been married 50 years, and everything has always been and will always be shared, 50/50."
The young man then asked the wife if she was going to eat, and she replied, "Not yet. It`s his turn with the teeth."
(Thanks to Lise)

Friday, September 21, 2001 -- Cojones
A man travels to Spain and goes to a Madrid restaurant for a late dinner. He orders the house special and he is brought a plate with potatoes, corn, and two large meaty objects.
"What's this?" he asks. "Cojones, senor," the waiter replies.
"What are cojones?" the man asks.
"Cojones," the waiter explains, "are the testicles of the bull who lost at the arena this afternoon."
At first the man is disgusted, but being the adventurous type, he decides to try this local delicacy. To his amazement, it is quite delicious. In fact, it is so good that he decides to come back again the next night and order it again. This time, the waiter brings out the plate, but the meaty objects are much smaller.
"What's this?" he asks the waiter.
"Cojones, senor," the waiter replies.
"No, no," the man objects. "I had cojones yesterday and they were much bigger than these."
"Senor," the waiter explains, "sometimes the bull wins!"

Monday, September 24, 2001 -- Groaning Puns
1. Did you hear that NASA recently put a bunch of Holsteins into low earth orbit? They called it the herd shot 'round the world.
2. Two Eskimos sitting in a kayak were chilly, but when they lit a fire in the craft, it sank and thus proved once and for all that you can't have your kayak and heat it, too.
3. A three-legged dog walks into a saloon in the Old West. He slides up to the bar and announces: "I'm looking for the man who shot my paw."
4. Did you hear about the Buddhist who refused his dentist's Novocain during root canal work? He wanted to transcend dental medication.

Tuesday, September 25, 2001 -- Food and Heaven
This 85 year old couple, having been married almost 60 years, had died in a car crash. They had been in good health the last ten years mainly due to her interest in health food, and exercise. When they reached the pearly gates, St. Peter took them to their mansion which was decked out with a beautiful kitchen and master bath suite and Jacuzzi.
As they "oohed and ahhed" the old man asked Peter how much all this was going to cost.
"It's free," Peter replied, "this is Heaven."
Next they went out back to survey the championship golf course that the home backed up to. They would have golfing privileges everyday and each week the course changed to a new one representing the great golf courses on earth.
The old man asked, "what are the green fees?".
Peter's reply, "This is heaven, you play for free."
Next they went to the club house and saw the lavish buffet lunch with the cuisines of the world laid out.
"How much to eat?" asked the old man.
"Don't you understand yet? This is heaven, it is free!" Peter replied with some exasperation.
"Well, where are the low fat and low cholesterol tables?" the old man asked timidly.
Peter lectured, "That's the best part...you can eat as much as you like of whatever you like and you never get fat and you never get sick. This is Heaven."
With that the old man went into a fit of anger, throwing down his hat and stomping on it, and shrieking wildly. Peter and his wife both tried to calm him down, asking him what was wrong. The old man looked at his wife and said, "This is all your fault. If it weren't for your blasted bran muffins, I could have been here ten years ago!"

Wednesday, September 26, 2001 -- The Boyfriend
One night a teenage girl brought her new boyfriend home to meet her parents, and they were appalled by his appearance: leather jacket, motorcycle boots, tattoos and pierced nose.
Later, the parents pulled their daughter aside and confessed their concern. "Dear," said the mother diplomatically, "he doesn't seem very nice."
"Mom," replied the daughter, "if he wasn't nice, why would he be doing 5,000 hours of community service?"

Thursday, September 27, 2001 -- The Farmer & The Cookie
A farmer was munching on a cookie as he watches the rooster chase a hen around.
Playfully, the farmer threw a piece of cookie to the ground. Seeing it, the rooster stopped chasing the hen and ran to the piece of cookie.
The farmer shook his head slowly and said, "Gosh, I hope I never get that hungry."

Friday, September 28, 2001 -- The Driver
A young fellow had just earned his driving permit. He asked his father, who was a minister, if they could discuss the use of the car. His father took him to his study and said to him, "I'll make a deal with you. You bring your grades up, study your Bible a little and get your hair cut and we'll talk about it."
After about a month the boy came back and again asked his father if they could discuss use of the car. They again went to the father's study where his father said, "Son, I've been real proud of you. You have brought your grades up, you've studied your Bible diligently, but you didn't get your hair cut!"
The young man waited a moment and replied, "You know Dad, I've been thinking about that. You know, Samson had long hair, Moses had long hair, Noah had long hair, and even Jesus had long hair ..."
To which his father replied... "Yes, and they WALKED every where they went!"
(Thanks to Lise & Diana)

Picture Of The Month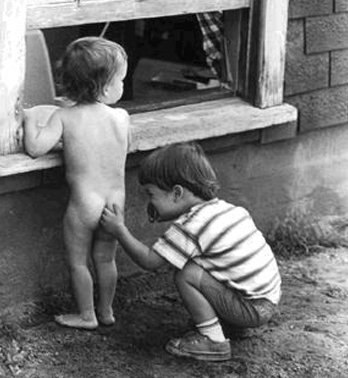 Future Correctional Officer





I welcome your jokes
If you have one to send
click below and email it