HOLDER OVERNIGHT
with
PETER ANTHONY HOLDER

JOKE DU JOUR


March, 2003

HOLDER OVERNIGHT - Humour Poll - March 2003
Who Was The Rejected Dwarf? [86 votes total]


Slappy (6)
7%
Skanky (11)
13%
Stinky (16)
19%
Horny (20)
23%
Glenn (33)
38%

Monday, March 3, 2003 -- The Heat

A man comes in to the room and says to his wife, "I'm going to the pub. Get your coat on."

The wife, overjoyed that he has included her in his activity replies, "Does that mean that you are taking me with you, darling?" The husband replies, "No - I'm turning the heating off."

Tuesday, March 4, 2003 -- Penny Drinks

A man walks into a bar one night. He goes up to the bar and asks for a beer.

"Certainly, sir, that'll be 1 cent." "One penny!?" exclaimed the guy. The barman replied, "Yes." So, the guy glances over at the menu, and he asks, "Could I have a nice juicy T-bone steak, with fries, peas, and a salad?" "Certainly sir," replies the bartender, "but all that comes to real money." "How much money?" inquires the guy. "Four cents," he replies. "Four cents?!" exclaims the guy. "Where's the guy who owns this place?" The barman replies, "Upstairs with my wife." The guy says, "What's he doing with your wife?" The bartender replies, "Same as what I'm doing to his business."

Friday, March 7, 2003 -- Dead Mule

A preacher went to his church office on Monday morning and discovered a dead mule in the church yard. He called the police. Since there did not appear to be any foul play, the police referred the preacher to the health department. They said since there was no health threat that he should call the sanitation department. The sanitation manager said he could not pick up the mule without authorization from the mayor.

Now the preacher knew the mayor and was not to eager to call him. The mayor had a bad temper and was generally hard to deal with, but the preacher called him anyway. The mayor did not disappoint. He immediately began to rant and rave at the pastor and finally said, "Why did you call me anyway? Isn't it your job to bury the dead?" The preacher paused for a brief moment and then replied; "Yes, Mayor, it is my job to bury the dead, but I always like to notify the next of kin first!"

Monday, March 10, 2003 -- The Hiker

A father came home from a long business trip to find his son riding a new 21 speed mountain bike. "Where did you get the money for the bike? It must have cost $300," he asked.

"Easy, Dad," little Johnny replied. "I earned it hiking." "Come on Johnny," the father said. "Tell me the truth." "That is the truth," Johnny replied. "Every night you were gone, Mom's boss, Mr. Reynolds, would come over to see Mom. He'd give me a $20 bill and tell me to take a hike!"

Tuesday, March 11, 2003 -- The Mating Bull

A man takes his wife to the stock show. They start heading down the alley that had the bulls. They come up to the first bull and his sign stated: "This bull mated 50 times last year." The wife turns to her husband and says, "He mated 50 times in a year, you could learn from him."

They proceed to the next bull and his sign stated: "This bull mated 65 times last year." The wife turns to her husband and says, "This one mated 65 times last year. That is over 5 times a month. You can learn from this one, also." They proceeded to the last bull and his sign said: "This bull mated 365 times last year." The wife's mouth drops open and says, "WOW! He mated 365 times last year. That is ONCE A DAY!!! You could really learn from this one." The man turns to his wife and says, "Go up and inquire if it was 365 times with the same cow."

Wednesday, March 12, 2003 -- Jonesie The Great Lion Hunter

A small village was troubled by a man-eating lion. So its leaders sent a message to the great hunter, Jonesie, to come and kill the beast.

For several nights the hunter lay in wait for the lion, but it never appeared. Finally, he told the village chief to kill a cow and give him its hide. Draping the skin over his shoulders, he went to the pasture to wait for the lion. In the middle of the night, the villagers woke to the sound of blood-curdling shrieks coming from the pasture. As they carefully approached, they saw the hunter on the ground, groaning in pain. There was no sign of the lion. "What happened, Jonesie? Where is the lion?" asked the chief. "Forget the damn lion!" he howled. "Which one of you idiots let the bull loose?"

Thursday, March 13, 2003 -- Catholic Mothers

Four Catholic ladies are having coffee together.

The first one tells her friends, "My son is a priest. When he walks into a room, everyone calls him 'Father'." The second Catholic woman chirps, "My son is a Bishop. Whenever he walks into a room, people say, 'Your Grace'. " The third Catholic woman says smugly, "My son is a Cardinal. Whenever he walks into a room, people say, 'Your Eminence'." The fourth Catholic woman sips her coffee in silence. The first three women give her this subtle "Well.....?" She replies, "My son is a gorgeous, 6 foot 2 inches, hard bodied stripper. When he walks into a room, people say, 'Oh my Lord...'."

Friday, March 14, 2003 -- Bar Talk

A very shy guy goes into a bar and sees a beautiful woman sitting at the bar. After an hour of gathering up his courage he finally goes over to her and asks, tentatively, "Um, would you mind if I chatted with you for a while?"

She responds by yelling, at the top of her lungs, "No, I won't sleep with you tonight!" Everyone in the bar is now staring at them. Naturally, the guy is hopelessly and completely embarrassed and he slinks back to his table. After a few minutes, the woman walks over to him and apologizes. She smiles at him and says, "I'm sorry if I embarrassed you. You see, I'm a graduate student in psychology and I'm studying how people respond to embarrassing situations." To which he responds, at the top of his lungs, "What do you mean $200?"

Monday, March 17, 2003 -- The Grocery Bagger

A boy was bagging groceries at a supermarket. One day the store installed a machine for squeezing fresh orange juice. Intrigued, the young man asked if he could be allowed to work the machine, but his request was denied.

Said the store manager, "Sorry, kid, but baggers can't be juicers."

Tuesday, March 18, 2003 -- The Hangover

Larry wakes up at home with a huge hangover. He forces himself to open his eyes, and the first thing he sees is a couple of aspirins and a glass of water on the side table.

He sits down and sees his clothing in front of him, all clean and pressed. Larry looks around the room and sees that it is in a perfect order, spotless, clean. So's the rest of the house. He takes the aspirins and notices a note on the table "Honey, breakfast is on the stove, I left early to go shopping. Love you." So he goes to the kitchen and sure enough there is a hot breakfast and the morning newspaper. His son is also at the table, eating. Larry asks, "Son, what happened last night?" His son says, "Well, you came home after 3am drunk and delirious, broke some furniture, puked in the hallway, and gave yourself a black eye when you stumbled into the door." Confused, Larry asks, "So, why is everything in order and so clean, and breakfast is on the table waiting for me?" His son replies, "Oh that! Mom dragged you to the bedroom, and when she tried to take your pants off you said, 'Lady leave me alone, I'm married'!" (Thanks to George)

Thursday, March 20, 2003 -- A Good Sneeze

A man and a woman were sitting beside each other in the first class section of the plane. The woman sneezed, took a tissue, gently wiped her nose and then shuddered quite violently in her seat. The man went back to his reading.

A few minutes passed. The woman sneezed again, took a tissue, gently wiped her nose and shuddered quite violently in her seat. The man was becoming more and more curious about the shuddering. A few more minutes passed and the woman sneezed one more time. Again she took a tissue, gently wiped her nose and shuddered violently. The man had finally had all he could handle. He turned to the woman and said, "You've sneezed three times, you've taken a tissue and wiped your nose, then shuddered violently! Are you all right?" The woman replied, "I'm sorry if I disturbed you. I have a rare condition and when I sneeze, I have an orgasm." The man was feeling a little embarrassed but even more curious and said, "I've never heard of that before. What are you taking for it?" The woman looked at him and said, "Pepper." (Thanks to Evan)

Friday, March 21, 2003 -- Great Steaks

Alan had told all of his friends about the great steak he'd eaten downtown the day before. A group of them decided to head down and see if it was really as large and delicious as Alan was making it out to be.

The group was seated in the back of the restaurant. After looking over the menu, they ordered and waited, hungrily, for their large, delicious pieces of dead cow. To their collective disappointment, the waiter brought out some of the smallest steaks they'd ever seen. "Now see here," a very embarrassed Alan said to the waiter. "Yesterday when I came down here you served me a BIG, juicy, steak. Today, though,when I have my friends about, you serve small steaks! What is the meaning of this???" "Yes, sir," replied the waiter, "yesterday you were sitting by the window."

Monday, March 24, 2003 -- The Postcard

"And will there be anything else, sir?" the bellboy asked after setting out an elaborate dinner for two.

"No, thank you," the gentleman replied. "That will be all." As the young man turned to leave, he noticed a beautiful satin negligee on the bed. "Anything for your wife?" he asked. "Yeah! That's a good idea," the fellow said... "Please bring up a postcard. I'll mail her a note!"

Tuesday, March 25, 2003 -- Good Advice for Women

If you want someone who will bring you the paper without first tearing it apart to remove the sports section... Buy a dog.

If you want someone willing to make a fool of himself simply over the joy of seeing you... Buy a dog. If you want someone who will eat whatever you put in front of him and never says its not quite as good as his mother made it... Buy a dog. If you want someone always willing to go out, at any hour, for as long and wherever you want... Buy a dog. If you want someone to scare away burglars, without a lethal weapon which terrifies you and endangers the lives of your family and all the neighbors... Buy a dog. If you want someone who will never touch the remote, doesn't give a damn about football, and can sit next to you as you watch romantic movies... Buy a dog. If you want someone who is content to get up on your bed just to warm your feet and whom you can push off if he snores... Buy a dog. If you want someone who never criticizes what you do, doesn't care if you are pretty or ugly, fat or thin, young or old, with boobs or without, who acts as if every word you say is especially worthy of listening to, and loves you unconditionally and perpetually... Buy a dog. But on the other hand: If you want someone who will never come when you call, ignores you totally when you come home, leaves hair all over the place, walks all over you, runs around all night, only comes home to eat and sleep, and acts as if your entire existence is solely to ensure his happiness, then my friend.....Buy a cat. (Thanks to Esther)

Wednesday, March 26, 2003 -- Married Life!!

Four married guys went fishing. After an hour, the following conversation took place: First guy: "You have no idea what I had to do to be able to come out fishing this weekend. I had to promise my wife I will paint every room in the house next weekend."

Second guy: "That's nothing! I had to promise my wife I'll build her a new deck for the pool." Third guy: "Man, you both have it easy! I had to promise my wife that I'll remodel the kitchen for her." They continued to fish, until they realized the fourth guy had not said a word. So they asked him. "You haven't said anything about what you had to do to be able to come fishing this weekend. What's the deal?" Fourth guy: "I just set my alarm for 5:30 am. When it went off, I shut off the clock, gave the wife a nudge and said, 'Fishing or Sex,' and she said, 'Wear a sweater.'" (Thanks to Lloyd)

Thursday, March 27, 2003 -- Baptist

A little son of a Baptist minister was in church one morning when he saw for the first time the rite of baptism by immersion. He was greatly interested in it, and the next morning proceeded to baptize his three cats in the bathtub.

The first kitten bore it very well, and so did the young cat, but the old family cat rebelled. It struggled with him, clawed and tore him, and got away. With considerable effort he caught it again and proceeded with the ceremony. But she acted worse than ever, clawed at him, spit, and scratched his hands and face. Finally, after barely getting her splattered with water, he dropped her on the floor in disgust and said: "Fine, be an Atheist."

Friday, March 28, 2003 -- Acrobatic Dancing

As soon as she had finished convent school, a bright young girl named Lena shook the dust of Ireland off her shoes and made her way to New York where before long, she became a successful performer in show business.

Eventually she returned to her home town for a visit and on a Saturday night went to confession in the church where she had always attended as a child. In the confessional Father Sullivan recognized her and began asking her about her work. She explained that she was an acrobatic dancer, and he wanted to know what that meant. She said she would be happy to show him the kind of thing she did on stage. She stepped out of the confessional and within sight of Father Sullivan, she went into a series of cartwheels, leaping splits, handsprings and backflips. Kneeling near the confessional, waiting their turn, were two middle-aged ladies. They witnessed Lena's acrobatics with wide eyes, and one said to the other, "Will you just look at the penance Father Sullivan is givin' out this night, and me without me bloomers on!"

Monday, March 31, 2003 -- A Mother's Advice

A mother was anxiously awaiting her daughter's plane. She had just come back from a far away land trying to find adventure.

As the daughter was exiting the plane, the mother noticed a man directly behind her daughter dressed in feathers with exotic markings all over his body and carrying a shrunken head. The daughter introduced this man as her new husband. The mother gasped in disbelief and disappointment and screamed, "I said for you to marry a Rich Doctor! a Rich Doctor!"

Picture Of The Month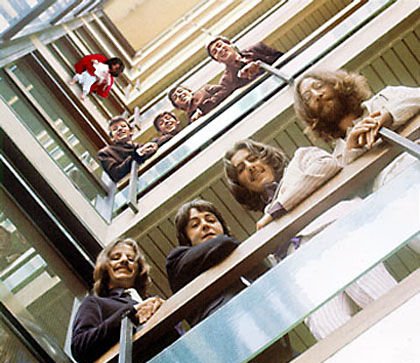 Michael Jackson & The Beatles





I welcome your jokes
If you have one to send
click below and email it