HOLDER TONIGHT
with
PETER ANTHONY HOLDER

JOKE DU JOUR


December 2005

HOLDER TONIGHT - Humour Poll - December 2005
You Know You've Packed On Holiday Pounds When... [

84

votes total]


Tinsel is attracted by your gravitational pull (23)
27%
You're snorting up pie on the carpet (3)
4%
Your Christmas sweater has all eight reindeer on it (12)
14%
Getting off the couch requires help from the fire department (8)
10%
Take a nap, wake up in July (8)
10%
You're sweating gravy (30)
36%

Friday, December 2, 2005 -- Buy Machine Factory
An American manufacturer is showing his machine factory to a potential customer from Albania. At noon, when the lunch whistle blows, two thousand men and women immediately stop work and leave the building.
"Your workers, they're escaping!" cries the visitor. "You've got to stop them."
"Don't worry, they'll be back," says the American. And indeed, at exactly one o'clock the whistle blows again, and all the workers return from their break.
When the tour is over, the manufacturer turns to his guest and says, "Well, now, which of these machines would you like to order?"
"Forget the machines," says the visitor. "How much do you want for that whistle?"

Monday, December 5, 2005 -- Octopus
A guy walks into a bar with an octopus. He sits the octopus down on a stool and tells everyone in the bar that this is a very talented octopus.
"He can play any musical instrument in the world."
Everyone in the bar laughs at the man, calling him an idiot. So he says that he will wager $50 to anyone who has an instrument that the octopus can't play.
A guy walks up with a guitar and sets it beside the octopus. Immediately the octopus picks up the guitar and starts playing better than Jimi Hendrix. The guitar man pays up his $50.
Another guy walks up with a trumpet. This time the octopus plays the trumpet better than Louis Armstrong. The guy pays up his $50.
Then a Scotsman walks up with some bagpipes. He puts them down and the octopus fumbles with them for a minute and then sits down with a confused look.
"Ha Ha!" the Scot says. "Ye canny plae it, can ye?"
The octopus looks up at him and says..."Play it??? I'm going to make love to it as soon as I figure out how to get its pajamas off."
(Thanks to Brian)

Tuesday, December 6, 2005 -- The Gift
Sam was out shopping in the mall when he meets his friend Abe outside the jewellers. Sam notices that Abe has a small gift-wrapped box in his hand.
"So what have you just purchased Abe?" Sam asks.
"Well, now that you've asked," replies Abe, "it's my Rifka's birthday tomorrow and when I asked her this morning what she wanted for her birthday she said, 'Oh, I don't know, dear, just give me something with a lot of diamonds in it.'"
"So what did you get her?" Sam asks.
Abe replies, smiling, "I bought her a deck of cards."

Wednesday, December 7, 2005 -- Eggplant
A greengrocer put up a sign that read "Eggplants, 25¢ each-three for a dollar."
All day long, customers came in exclaiming: "Don't be ridiculous! I should get four for a dollar!"
Meekly the grocer capitulated and packaged four eggplants.
The tailor next door had been watching these antics and finally asked the greengrocer, "Aren't you going to fix the mistake on your sign?"
"What mistake?" the grocer asked. "Before I put up that sign no one ever bought more than one eggplant!"

Thursday, December 8, 2005 -- Teaching the Child
As a crowded airliner is about to take off, the peace is shattered by a 5-year-old boy who picks that moment to throw a wild temper tantrum. No matter what his frustrated, embarrassed mother does to try to calm him down, the boy continues to scream furiously and kick the seats around him.
Suddenly, from the rear of the plane, an elderly man in the uniform of an Air Force General is seen slowly walking forward up the aisle. Stopping the flustered mother with an upraised hand, the white-haired, courtly, soft-spoken General leans down and, motioning toward his chest, whispers something into the boy's ear.
Instantly, the boy calms down, gently takes his mother's hand, and quietly fastens his seat belt. All the other passengers burst into spontaneous applause.
As the General slowly makes his way back to his seat, one of the cabin attendants touches his sleeve. "Excuse me, General," she asks quietly, "but could I ask you what magic words you used on that little boy?"
The old man smiles serenely and gently confides, "I showed him my pilot's wings, service stars, and battle ribbons, and explained that they entitle me to throw one passenger out the plane door on any flight I choose."

Monday, December 12, 2005 -- The Drum
There was once a small boy who banged a drum all day and loved every moment of it. He would not be quiet, no matter what anyone else said or did.
Various attempts were made to do something about the child. One person told the boy that he would, if he continued to make so much noise, perforate his eardrums. This reasoning was too advanced for the child, who was neither a scientist nor a scholar.
A second person told him that drum beating was a sacred activity and should be carried out only on special occasions.
The third person offered the neighbours plugs for their ears; a fourth gave the boy a book; a fifth gave the neighbours books that described a method of controlling anger through biofeedback; a sixth person gave the boy meditation exercises to make him placid and docile. None of these attempts worked.
Eventually, a wise person came along with an effective motivation. He looked at the situation, handed the child a hammer and chisel, and asked, "I wonder what is INSIDE the drum?"
No more problem.

Wednesday, December 14, 2005 -- The Tip
A college pizza delivery boy arrived at the house of Larry Johnson. He delivered the pizza to his trailer. After giving it to him, Larry asked: "What is the usual tip?"
"Well," replied the youth, "this is my first trip here, but the other guys say if I get a quarter out of you, I'll be doing great."
"Is that so?" snorted Larry. "Well, just to show them how wrong they are, here's five dollars."
"Thanks," replied the youth, "I'll put this in my school fund."
"What are you studying in school?" asked Larry.
The lad smiled and said: "Applied psychology."

Thursday, December 15, 2005 -- Man & Wife
A man and his wife are sitting in the living room and he says to her, "Just so you know, I never want to live in a vegetative state dependent on some machine. If that ever happens, just pull the plug."
His wife gets up and unplugs the TV.
(Thanks to Michael)

Friday, December 16, 2005 -- A Call From Ernesto
At dawn the telephone rings. "Hello, Senor Smith? This is Ernesto the caretaker at your country house."
"Ah yes, Ernesto. What can I do for you? Is there a problem?"
"Um, I am just calling to advise you, sir, that your parrot died"
"My parrot? Dead? The one that won the International competition?"
"Si, that's the one."
"That's a shame! I spent a small fortune on that bird. What did he die from?"
"From eating rotten meat."
"Rotten meat? Who fed him rotten meat?"
"Nobody senor. He ate the meat of one of the dead horses."
"Dead horse? What dead horse?"
"The thoroughbred, Mr. Lucky. He died from all that work pulling the water cart."
"Are you insane? What water cart?"
"The one we used to put out the fire."
"Good Lord! What fire are you talking about, man?"
"The one at the house! A candle fell and the curtains caught on fire."
"What the...!!! But there's electricity at the house!!!! What was the candle for?"
"For the funeral."
"WHAT FUNERAL?!"
"Your wife's. She showed up the other night out of the blue and I thought she was a thief, so I hit her with your new Tiger Woods Nike Driver."
SILENCE....................
"Ernesto, if you broke that driver you're fired!"
(Thanks to Ross)

Monday, December 19, 2005 -- A Trip To The Dentist
The pretty young Miss was having a tooth pulled and the dentist gave her the usual "This won't hurt a bit" routine before bending over her with a drill in his hand.
He immediately drew back in complete alarm. "Miss," he said in a barely audible whisper, "You have hold of my privates!"
"Yes, doc, I know," she smiled, "and we aren't going to hurt each other, are we?"
(Thanks to Douglas)

Wednesday, December 21, 2005 -- The Coach
At one point during a baseball game, the coach said to one of his young players, "Do you understand what cooperation is? What a team is?"
The little boy nodded in the affirmative.
"Do you understand that what matters is whether we win together as a team?"
The little boy nodded yes.
"So," the coach continued, "when a strike is called, or you're out at first, you don't argue or curse or attack the umpire. Do you understand all that?"
Again the little boy nodded.
"Good," said the coach.
"Now go over there and explain it to your mother."
(Thanks to Douglas)

Thursday, December 22, 2005 -- Counselling
The husband and wife go to a counsellor after 15 years of marriage.
The counsellor asks them what the problem is and the wife goes into a tirade listing every problem they have ever had in the 15 years they've been married. She goes on and on and on.
Finally, the counsellor gets up, goes around the desk, embraces the woman and kisses her passionately, rips off her clothes and makes mad passionate love to her. Needless to say, the woman shuts up and sits quietly in a very satisfied daze.
The counsellor turns to the husband and says, "That is what your wife needs at least three times a week. Can you do that?"
The husband thinks for a moment and replies, "Well, I can get her here Monday and Wednesday, but Friday I play golf."
(Thanks to Sheldon)

Picture Of The Month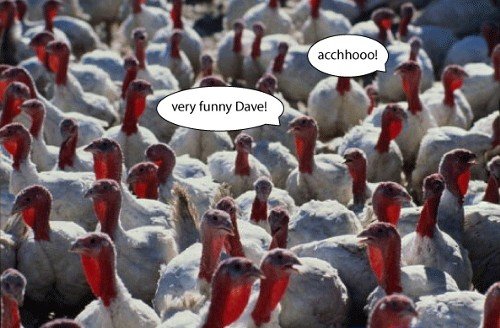 Bird Flu Prankster





I welcome your jokes
If you have one to send
click below and email it