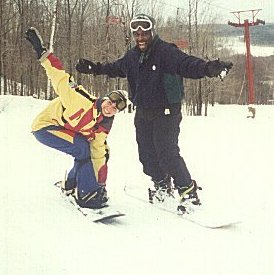 Snowboarding:
Getting Stoked, Staying Young
by
Peter Anthony Holder
originally published in the Montreal Gazette
Sunday, March 8, 1998
---
The Winter Olympics in Nagano, Japan have come and gone. Like so many I was hypnotized by the glow of my television at odd hours of the day soaking up the Games and Canada's excellent contribution to them.
I was most keen to watch one of the newer sports on the scene. Well before the controversy surrounding Ross Rebagliati stirred up, I was interested in my new favorite sport . . . the sport that just last year at the ripe old age of 39 I took up for the first time. I was glued to watching the snowboarders.
Snowboarders crashed the oldest tradition in organized sports, and they did it in record time. In just over a decade, snowboarders have gone from "those crazy kids on the hill who antagonize the 'two-plankers'," to Olympic medalists.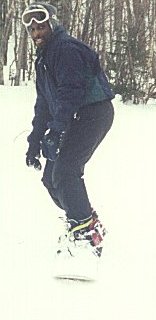 Don't get me wrong. I'm not going to even think about competing, or remotely comparing myself to those "stoked" guys and gals in painted-on body suits. At my age, and having never even gone skiing before, that would be foolish indeed. Just the idea that I strapped a board onto my feet for the first time as I approach my forth decade on this planet had many thinking that this was some sort of mid-life crisis. There was no crisis. This was just an awakening.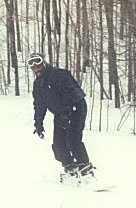 You see, it took me this long to find out that some people actually do things outdoors in the winter! Born and raised in Montreal, I considered myself an inner city youth while growing up. The greatest peaks I conquered in the past, were the ones created by those generous workers from the City of Montreal road crews. The swiftest downhill activity was when I would go tobogganing while visiting friends who happened to live on a street with an incline.
Being a child of West Indian parentage, outdoor winter activities were not something Mom and Dad would eagerly endorse. I'm supposed to enjoy summertime activities like soccer or cricket. This foolish North American desire to be part of fun in the snow can only lead to other dangerous quests like joining the Jamaican bobsledding team. And let's be honest . . . even in these politically correct 90s, as a Black person one can still turn a head or two by walking through a ski lodge geared up for the hills.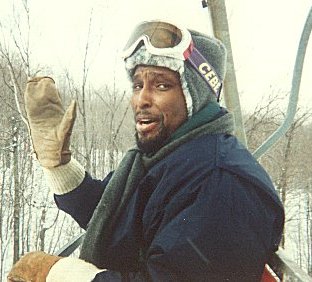 So it was quite the surprise to everyone who knows me, and a nightmarish episode for my Mother, that I accepted a friend's challenge last year to attempt snowboarding. I say challenge, because to many people this is something that is supposed to be ethnically impossible for me. Besides, this was also the ultimate test of my friend's teaching skills.
It's not that I'm a person who courts danger. This Nordic adventure was well thought out. First of all, my teacher also happens to be my closest friend, Mario Leblanc. I trust him with my life, despite his being in my will.
In addition to being a constable in the MUC Police Department, Mario is a certified snowboard instructor and a member of the Canadian Ski Patrol. His girlfriend, Lisa Connell is also a ski patroller and a certified trauma nurse. If either one could administer last rites, I would have been covered all the way around.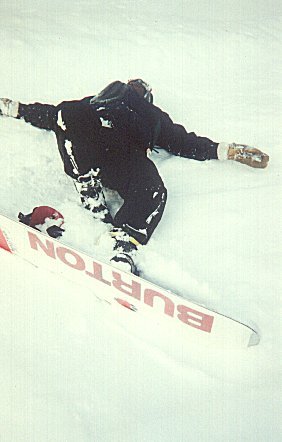 So it was off to Owl's Head in the Eastern Townships to tackle the mountain and winter's wrath. There was no room for fear in my plan. Of course that was before I got a good look at the chairlift . . . but I am getting ahead of myself.
Decked out in borrowed equipment, Mario quickly put me through the drills. How to stop and start, how to distinguish the front end of the board from the back, determining whether I was "goofy" or not. This is not a derogatory term. A goofy-foot rider is one who is most comfortable with their right foot forward. Alas, I am not goofy!
I had seen snowboarders on television and on film. I had an image of zipping down the hill in wild abandon, the wind in my face. Well a day of constant drills was painful, and the only thing I felt in my face was terra firma as I hit the deck more times than Bambi on ice. My toes were constantly trying to grab the board like a parrot on a perch - a parrot who's afraid of heights.
By the end of the first day I was very wet, very bruised, and mildly disenchanted with the whole process. I did manage to have fun though. It must have been the company.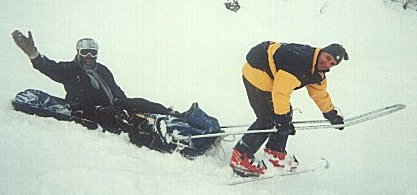 In hindsight, nonetheless, I now realize what wise ol' Mario was up to. He was not interested in finding out how fast I could get down the hill, regardless of my physical condition. He's my friend, not a scout for America's Funniest Videos. He was only interested in teaching me the basics so I could get down the hill safely. I know this now because of my experience on Day Two.
Day Two was a chance to put all I had learned into practice from the top of the hill to the bottom and, suddenly all the valuable tips sunk in. I knew how to "carve," how to turn, and most importantly how to stop before I get to that tree! I was like a child again on the first day Dad took off the training wheels. I was free and having a hoot on the side of Owl's Head. I will never be confused for one of those young whipper-snappers who are getting great "air" (leaving the ground). No, my style at the moment would best be described as "ballroom boarding" (watching me you might get the urge to hum "The Blue Danube").
I managed to spend an entire day snowboarding with confidence, without serious injury and, with very few falls. Many said it couldn't be done, but now, I have witnesses. Notice that I mentioned without "serious" injury. Oh, I did get hurt, and that brings us back to the chairlift. . . .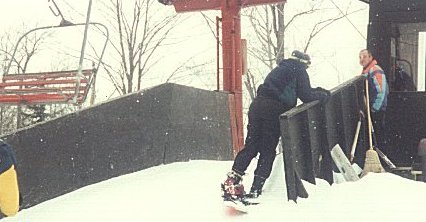 Perhaps the most difficult art to master on a snowboard is balance. Yet, to ride the chairlift, a snowboarder must have the board attached to one foot and be prepared to dismount from a moving throne. Surely you see the problem. I would have to say that my first ten or so experiences on the chairlift would have done Vinko Bogataj proud. Trivia fans will quickly remember that this is the poor Yugoslavian skier better known as "the agony of defeat" on Wide World of Sports.
In one of the many times I cartwheeled off the lift I twisted my ankle, but good, but, like Kerri Strug there was no stopping me! With tips from a jolly lift operator (I assumed he was jolly and not just laughing at me), I managed to learn the proper dismount and my snowboarding lessons were complete. I was now a snowboarder! Mario has created a monster and my Mother will never have another pleasant winter's night sleep.
Now that I've mastered snowboarding (okay, just amuse me on that point) maybe I'll take up some other sport that you don't traditionally see people of color doing. You know, I did spend a lot of time watching the curling during the Olympics. Hmmm!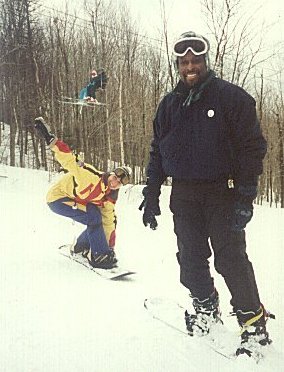 ---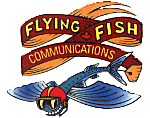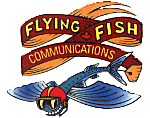 ---

---
---
Comments, or even guest ideas are always welcome
Just click below and send me an email: